MARMARİS - DATÇA- HİSARÖNÜ KÖRFEZİ - MARMARİS

Bozukkale and knidos (optional) you can see the ancient ruins. Also Datca, Marmaris, orhaniye, Selimiye and swim in beautiful bays and numerous small coastal villages such as visit. Nearest airport to Marmaris is Dalaman (100 km.) and the basement (125 km.) 'stop.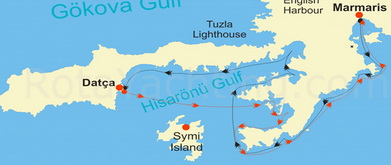 Tour dates and prices:
Every Saturday from Marmaris day output. 2-person cabin, including meals price per person: the
10 May - 24 May
28 September- 11 October
25 May - 05 July
07 September - 27 September
06 July - 06 September
240 EURO price per person
360 EURO price per person
430 EURO price per person
Click here for questions and reservations.
* Price per person in a cabin for 2 people is the price.
* If you want to remain the only person in the cabin price 60% of the amount added.
* The price includes all meals. Drinks are not included. Please do not bring it with you. Drinks can be obtained from the bar on board.
* Tour fee of 50% when you pay a booking will be made. Pay the remaining cost boat at arrival.
Marmaris - Datca - Bodrum - Marmaris tour program:
Day 1: Marmaris harbour for your boat, you can come at any time during the afternoon. Day have the chance to travel to Marmaris. Dinner boat.
2-day: come in and you while you eat your breakfast gives you information about the tour and the boat tour guide. From the port on the island of the Arab movement and then lunch. In the afternoon, bozukkale village where ancient ruins are located involves. Overnight here.
3 day: after breakfast, Datca harbour and the entrance to motion. Here, too, in the sea you can swim, you can visit the town of Datca, knidos ancient city which can be organized or optionally you may join the tour. Overnight stay in Datca.
4 day: after breakfast today, we move towards the village. Bencik bay, which is also a natural wonder during the afternoon and swim in the sea or walking in the hills covered with pine trees and magnificent you can take great pictures. Overnight in the village.
5-day: after breakfast, Selimiye or orhaniye village and have a swimming break in motion. Those quiet village and visit the village and enjoy the sea, or you can stay in the boat.
6-day: after breakfast, we are going to bend the elbow. Transported to the village of bozburun, famous yacht manufacturing in the afternoon. Swim in the sea, you can visit the village or you can visit the shipyards. Overnight here.
7-day: in the morning move, or are given a break in kumlubuk Bay galley. After a break in the afternoon towards the evening on Paradise Island naval Marmaris Harbour entrance. Last night in Marmaris. Shopping and have the opportunity to visit.
8-DAY: end your tour with breakfast in the morning. You leave the boat with good feelings and memories.